BOOKED
, available from
spring 2024
availability for small tasks (on hourly basis) on request.
Celebrating 20 years in the vfx industry and Founder of the COMP RANGERS
20 years of experience from over 180 projects ranging from commercials, movies,
animated features,
image films to art projects.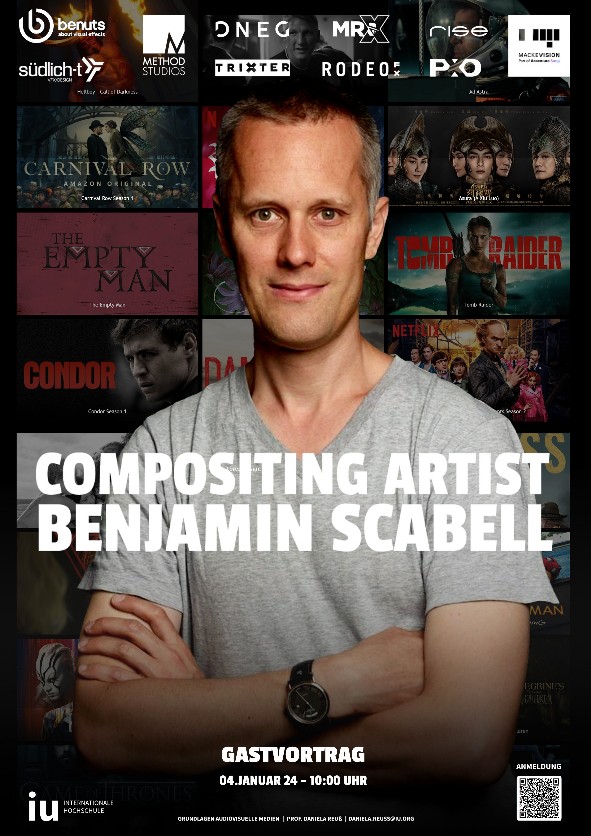 On 04.01.2024 I will be talking at the Internationale Hochschule Nürnberg about the work and daily life of a compositing artist.
digital compositing since 2003
This is the internet presence of Benjamin Scabell
I am a freelance lead/senior digital compositor
with experience gained in vfx studios in germany, spain, uk, ireland, canada, belgium and australia.
in 2003 the sae institute hamburg awarded me with the Digital Film Maker diploma
check out one of my six showreels
Method Studios / Framestore
most popular feature projects
Method Studios / Framestore
Lyle, Lyle, Crocodile; The Guardians of the Galaxy Holiday Special, 65, Borderlands
Tales from the Loop, Chaos Walking, The Boys
Star Trek: Beyond, Assassin's Creed, Terminator Genisys, In the Heart of the Sea
Iron Man 3, Captain America, Wolfblood, Spider-Man
Ad Astra, The Walking Dead, various Netflix projects
The Frankenstein Chronicles, Game of Thrones, Ripper Street
most popular tv commercials
McDonald's, Moskovskaya, Haribo, Oxfam, Maxdome, Triumph, Siemens, Lindt, Clearasil, Pro7, UHU
Playmobil, various car manufacturers
DPD, Mont Blanc, Hugo Boss
Ully Arndt Studios (former Public Toons)
Ferdi Fuchs, Monster Allergy
more mentionable projects
Mobile Akademie Berlin Art Installation "Die Toten / Untoten"
Edesio "ritmo caliente" music video
Production Friends logo animation